Swell just posted it, but here's a reminder about the new Prefix Mag/Potholes in My Blog Summer Mixtape that we threw down on. There's a brand new, exclusive Metermaids track on there that we think is pretty good. And it's free. You can check it out here: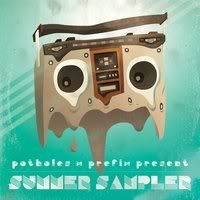 Summer's almost over and we feel pretty accomplished. We put out two mixtapes this summer, teamed up with Rob Swift, and are extremely close to letting the great white elephants out of the room. We've got some shows and releases and news coming in the near future that should keep us busy and get some new music out to the world.
Until then...check out the new video from our homie Sage Francis. It's off his latest album and the stop motion pretty much kills it. Holler.