Our mash-up of our album Nightlife with Sufjan Stevens' album Illinoise, which we brilliantly called, "Nightlife in Illinoise," got us coverage on Spin.Com and Wired.Com, and into the pages of the Village Voice and Playboy. It has been downloaded over 10,000 times since December, and has been a big hit on Last.FM
Sentence did the cool-ass cover. It looks like this: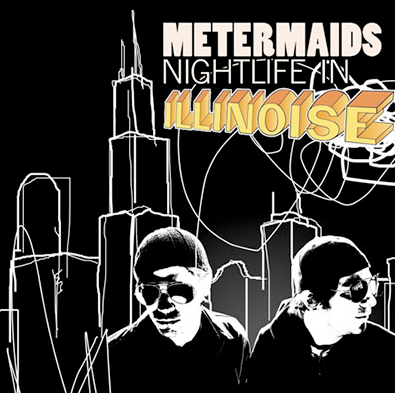 Anyway, it is now available (along with all of our other music) at music.metermaidsnyc.com.
We also got the absolute final mixes for Smash Smash Bang today. It is done! Finally! It's original release date was June 15th. Niiiiiiiiiice. Anyway, it sounds fucking ridiculous. Five songs, fifteen minutes total. We should be releasing the first single in the next week or two. So get ready. We hope everyone digs.
Another big conference call tomorrow. I love conference calls. Exciting things always happen on conference calls. At least for us they do. I don't know about dudes who work for Goldman Sachs or whatever.
More news soon.