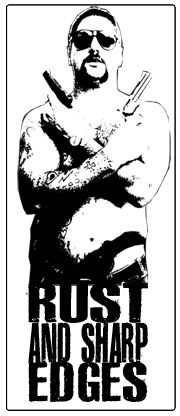 Last week we released a third single off the Hello Mixtape. It was our remix version of Dead Weather's "Treat me like your Mother." Now, if you haven't picked up on our admiration of Jack White yet, it's safe to say we're both fans. When we were picking songs to remix for the album, this was literally the first one that I thought of. We had to use it. It was a perfect fit.
We called our version "Rust and Sharp Edges." I'm not usually into giving too much away about what our songs mean...I like to leave it up to the listener to decide what it's about and it usually ends up sitting in someone's mind in a way much different than we originally intended. But not this time. It doesn't take Pitchfork to realize this is a rap song for rapping's sake. We almost NEVER do songs like this, so it was a little overdue.
It was actually inspired by a project we did with our friends a couple years ago called Business Casual, an album that was pretty much a free for all lyrically, that we got to just write funny and clever raps on. This song is a little battle-ish, a little rugged. Which is cool for me because I got into hip hop through the battle scene in Colorado and it was fun to channel that a little.
We have the next Hello single dropping later this week. From here on out, it really gets interesting. Stay tuned.
Until then, here's a video of Dead Weather performing Treat me Like Your Mother. It's kind of a busted version, but it was recorded at Music Hall of Williamsburg at a show I was at on my birthday last year, so what the hell?
Sixguns